We offer excentric stamping presses manufactured by experienced italian company MA.TE Presse. Thanks to rigid and robust frame construction and precise guiding system of the press slide it is a great choice for manual and automatic stamping operations like cutting, punching, bending, pulling of material and also for usage with progressive press tools.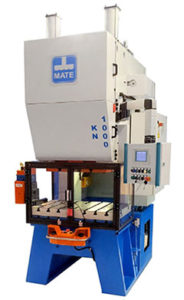 Rich standard equipment
In standard equipment, we offer you:
Adjustable speed motor SIEMENS
Hydraulic overload protection
Die space adjustment with brake-motor
Central oil lubrication with alarms
Color touch display
Double worktable.
Wide selection of other optional equipment allows for choice of the press configuration, that completely meets all your requirements.
Excentric presses are offered in the following versions (click on the link for more information):
All presses are ready for usage in fully automatic stamping lines in co-operation with electronic roll feeders, straighteners and decoilers.
Feel free to contact us for getting more detailed information and for selection of the most suitable model and optional configuration according to your needs.
More than 60 years of tradition and experience of MA.TE Presse company with stamping presses manufacturing allows for expansion into more than 30 countries around the world. This is a good reason for becoming a member of group of our satisfied customers.