The straightener is additional equipment used in press manufacture. It is used for straightening a metal belt decoiled of a decoiler. In a production line, it is placed between a decoiler and a feeder.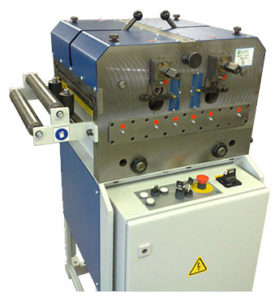 Mechanical realization
The straightener QRME consists of a chassis welded from metal sections and plates, a straightening mechanism and electro-enclosure with control panel.
Inside the straightening mechanism, input, output and straightening rolls are placed. Opening and closing of input / output rolls is provided by hand levers.
A number of straightening rolls is 7. Four of them are placed in side-plates of the machine. One of them is propelled by motor via belt pulley. This rotational movement is then transfered to the other rolls by gear wheels. Three upper straightening rolls are also placed in the side-plates, but they are height adjustable, whicht is performed by rotating a ball screw. Their actual relative height is indicated on a scale.
As standard, we attach input roll for shoring of metal belt before it enters the straightener. It can be used as bottom or upper roll, in accordance to how the metal belt is decoiled of a decoiler. Side belt alignment is done by two hardened vertical rolls, whose position is adjustable according to belt width.
Straightener control
Rotating movement of the straightener is ensured by electromotor with frequency inverter, which performs smooth acceleration and deceleration ramps, thus continuous making of a reserve loop. Size of the reserve loop is controlled wirelessly by analogue distance sensor. On the sensor's frame, there is also mounted a limit switch for stopping the following machine after the straightener in case of failure and no reserve loop.
Additional equipment
In the case of customer interest, we offer following additional equipment to the straightener:
Pneumatic control of input/output rolls
Side-straightening of metal belt
Portable control panel for comfortable belt loading in feeders rolls or machine tool of forming press
Feel free to contact us for getting additional information.
Technical parameters
| | QRME 300/4 | QRME 500/3 |
| --- | --- | --- |
| Max. belt width [mm] | 300 | 500 |
| Max. belt thickness [mm] | 4 | 3 |
| Max. feed velocity [m/min] | 5-35 | 5-35 |
| Rolls diameter [mm] | 60 | 60 |
| Max. power requirement [kW] | 2,2 | 2,2 |
| Length [mm] | 800 | 1 100 |
| Width [mm] | 560 | 1 000 |
| Height [mm] | 1230 | 1 320 |
| Weight [kg] | 630 | 685 |