Straight side presses are ideal solution in case of needs for precise stamping operation or high press capacities.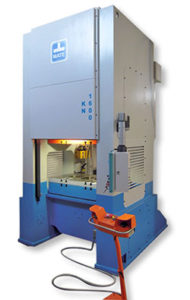 We offer straight side presses in the following versions:
MH1 – with 1 connecting rod
(from 500kN to 4 000kN)
MH2 – with 2 connecting rods
(from 1 250kN to 4 000kN).
According to your needs we offer both the above mentioned versions in configuration with:
Excentric shaft
Link drive motion
Servomotion.
In standard equipment, we offer you:
Adjustable speed motor SIEMENS
Hydraulic overload protection
Die space adjustment with brake-motor
Central oil lubrication with alarms
Color touch display on robust swivel arm
Wide selection of other optional equipment allows for choice of the press configuration, that completely meets all your requirements.
Feel free to contact us for getting more detailed information and for selection of the most suitable model and optional configuration according to your needs.